Solvang Brewing Company is proud to be a component in this beautiful and intriguing community. Our Company produces the finest quality ales and cuisine using only premium quality ingredients. Our products are carefully finished with our own blend of special spices and ingredients to bring you a remarkable taste that is only available here in Solvang. Solvang Brewing Company's fine ales are presently available only in the local area, guaranteeing a fresh and high quality product that is part of the Solvang experience.

Solvang, translating to "sunny fields" in Danish was founded by Danish-American settlers in 1911and is known as the "Danish Capital of America." One of the founding owners of Solvang Brewing Company, Cari Renfrow, is a proud fourth generation Solvang born Dane; her family is among some of the earliest settlers of Solvang. Her grandfather's uncles, Paul and his brother Niels, came to the Valley November 20, 1911 and her grandmother and grandfather followed thereafter to join the new Danish community.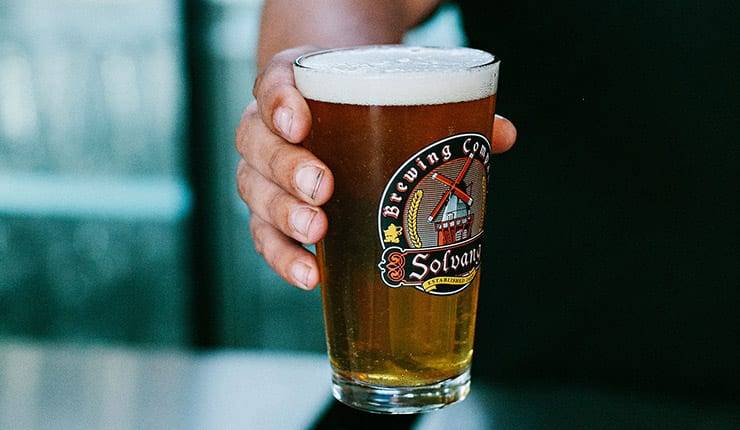 Today, Solvang is home to a number of bakeries, restaurants, merchants and now, Solvang Brewing Company, which offers a taste of Denmark in California. The architecture of many of the facades and buildings reflect traditional Danish styles. Solvang has a statue copy of the famous Little Mermaid statue from Copenhagen, as well as one featuring the bust of famed Danish fable writer, Hans Christian Andersen. A replica of Copenhagen's Round Tower or Rundetårn can be seen in the city centre. Solvang has forged strong cultural ties with Denmark and Danes are familiar with and intrigued by the Danish community in California. Many Danish Americans consider Solvang their cultural home and visit regularly, especially during the festive Danish Day's celebration.
Denmark may be known as the land of lager, but ironically it's also the land from which the word "ale" made its way into the English language. The Danes (along with their cousins, the Norwegians) were the globe-trotting conquerors from the 700s through the first century of the second millennium. The Viking word for bitter was "aul(t)." As the Vikings successfully, and repeatedly, conquered coastal towns in the British Isles, the letter "t" was eventually dropped from this Viking word and "ale" came into being. On a similar linguistic note, the modern-day Danish word for beer is "Øl." So…! In the spirit of tradition let's "Øl" have some ALE!! Skál or in English, cheers!